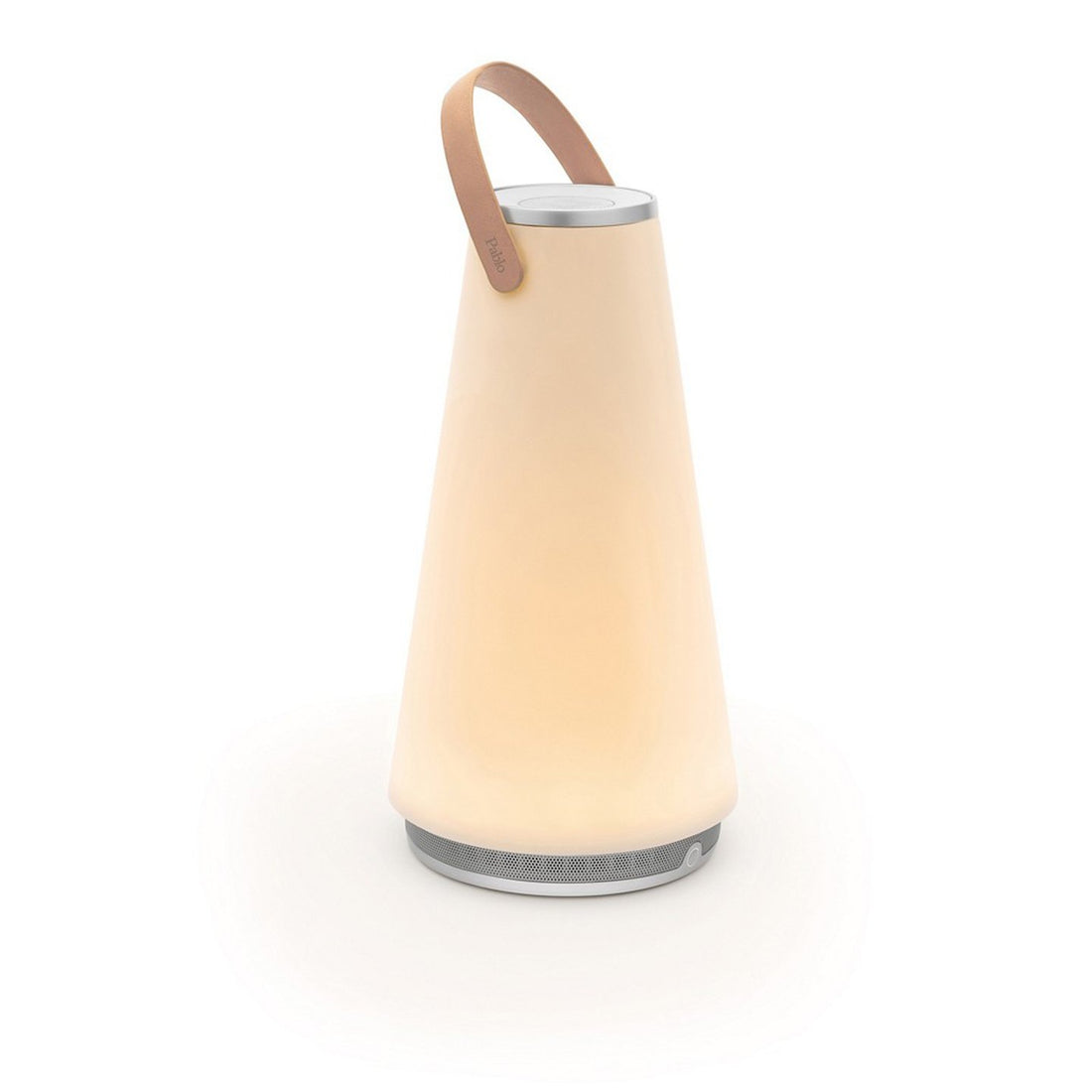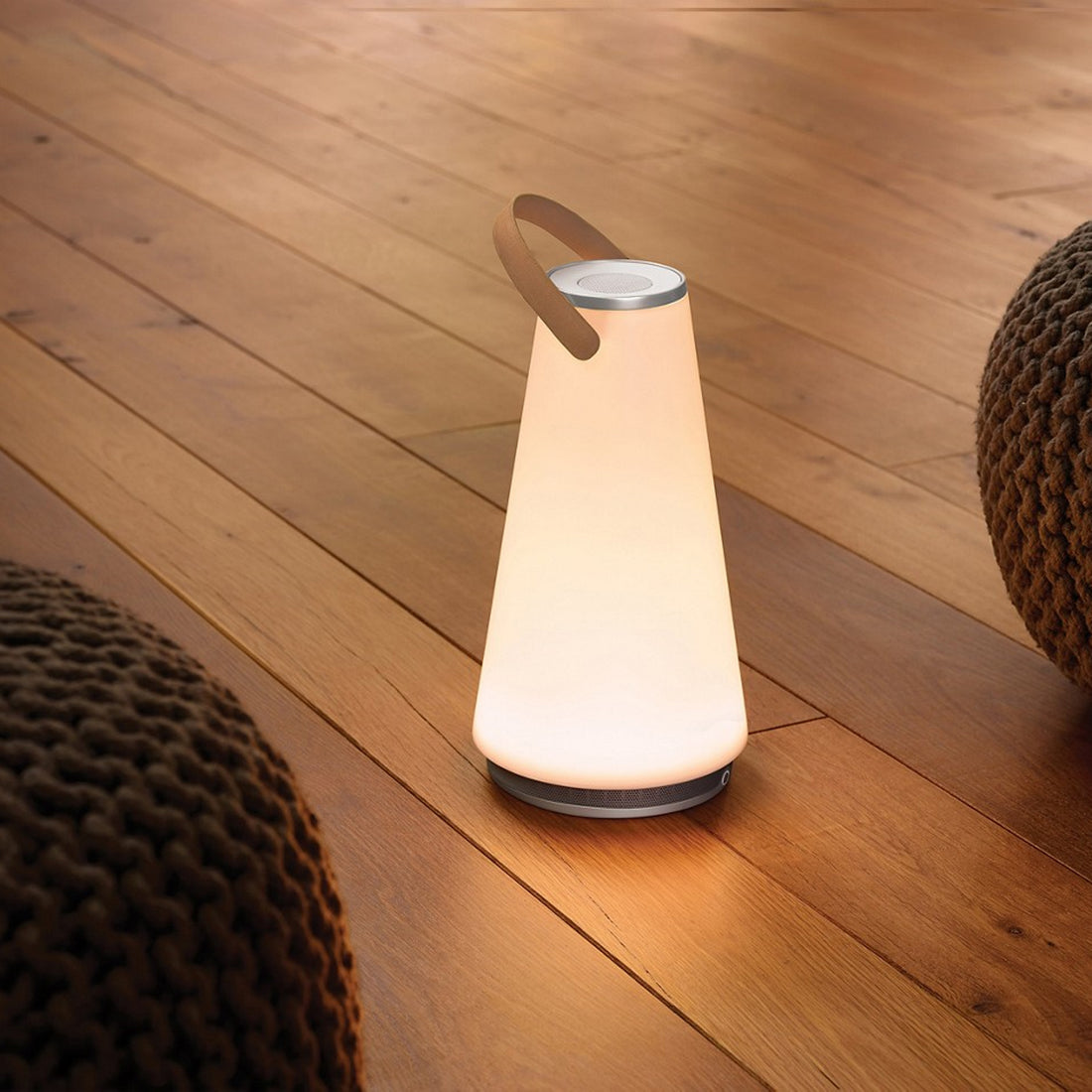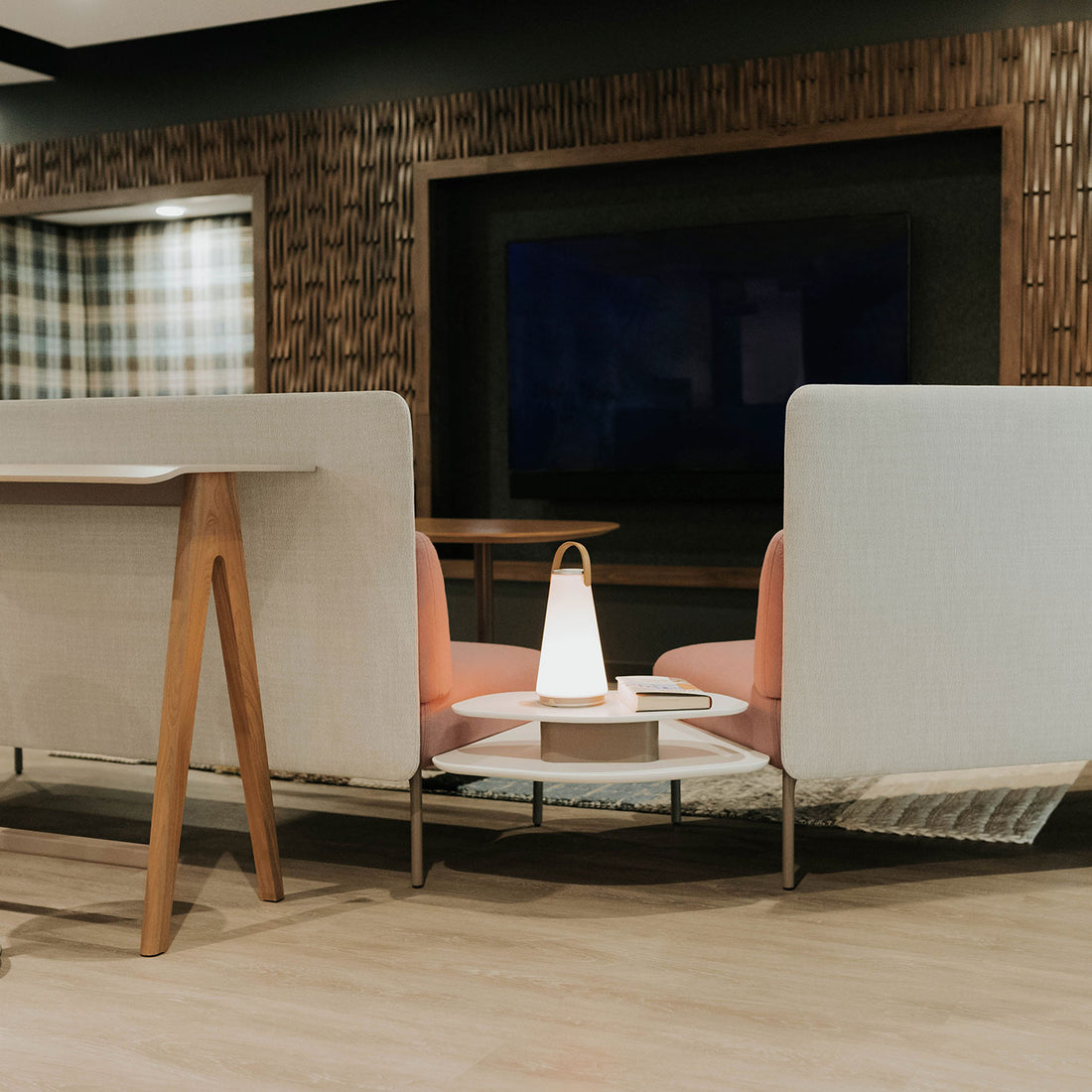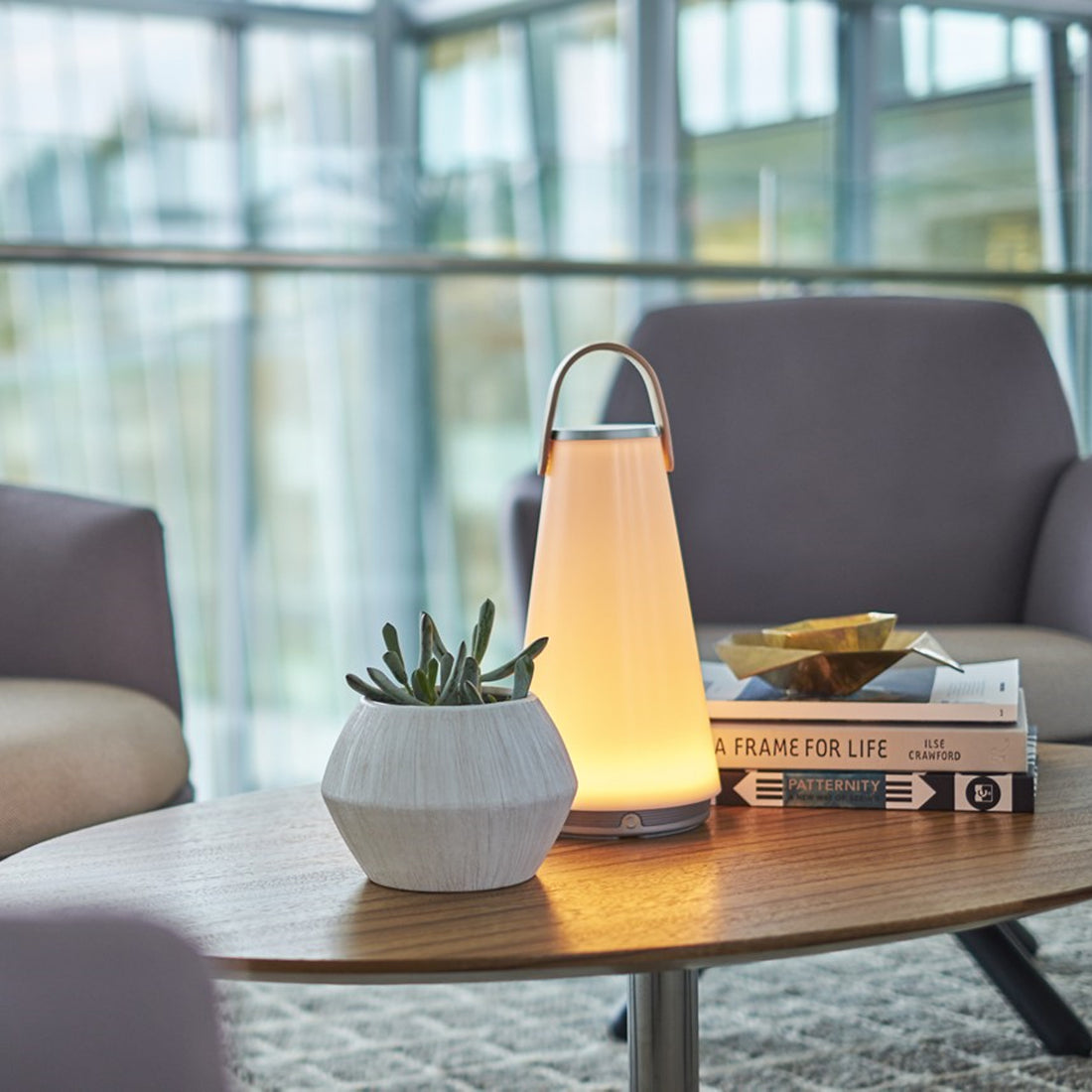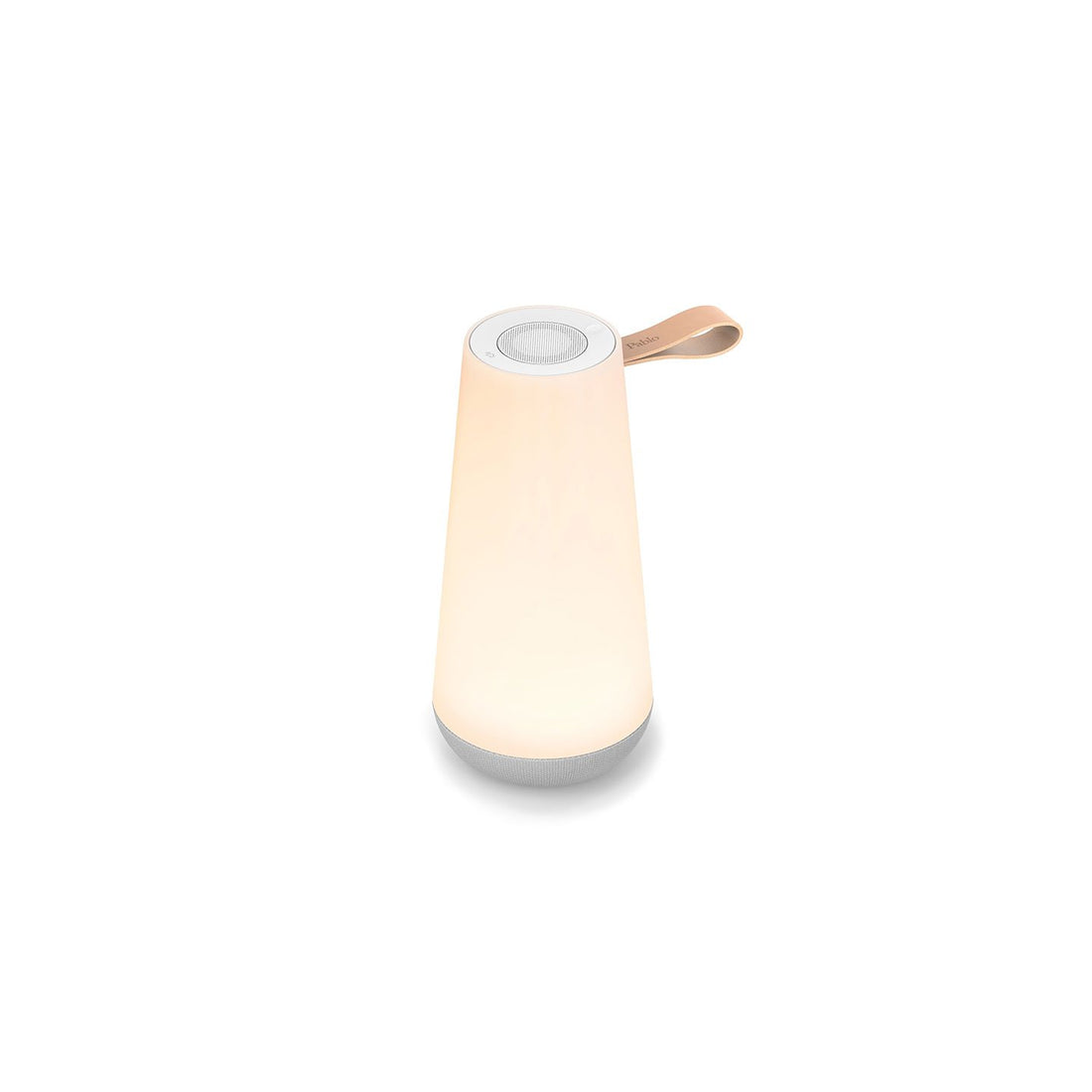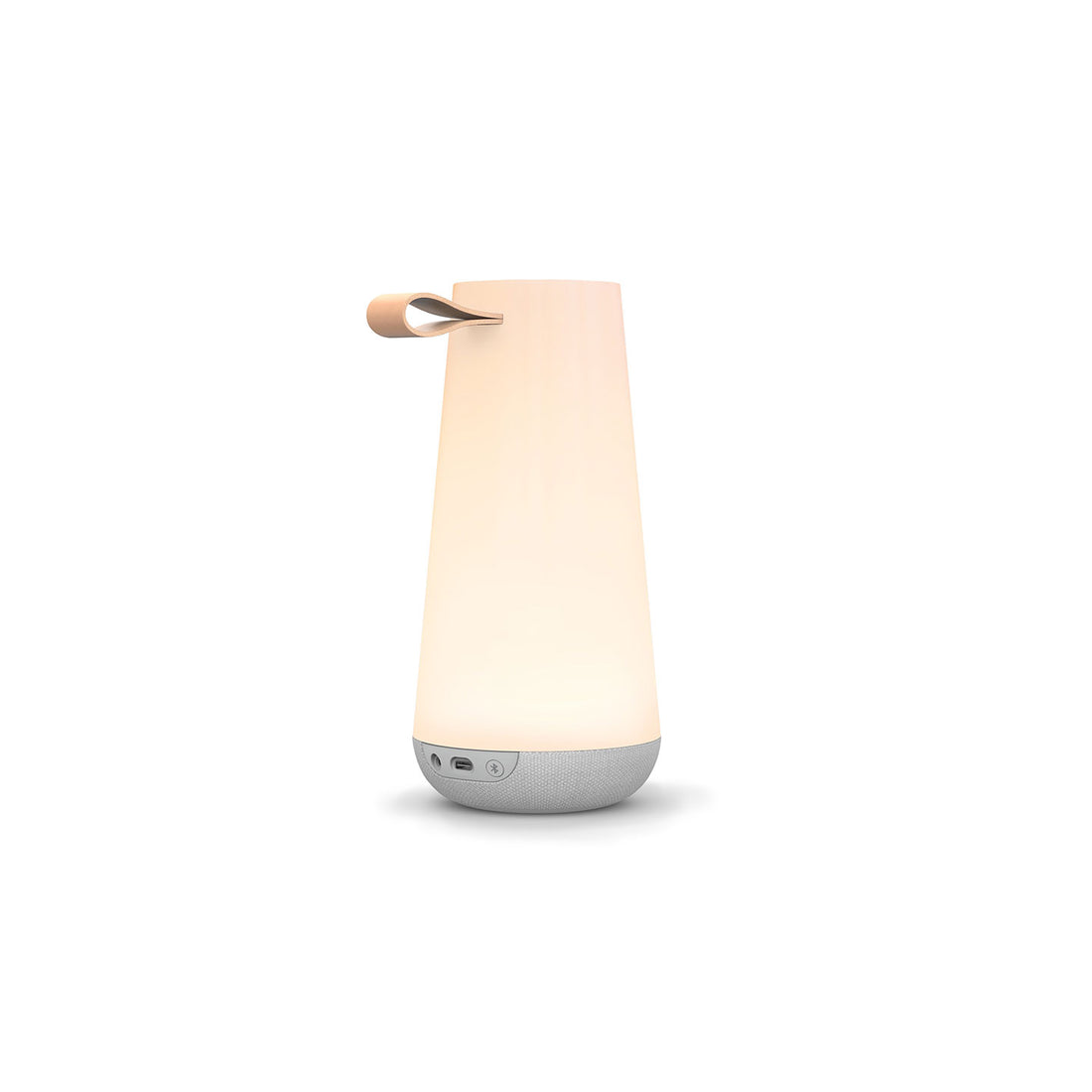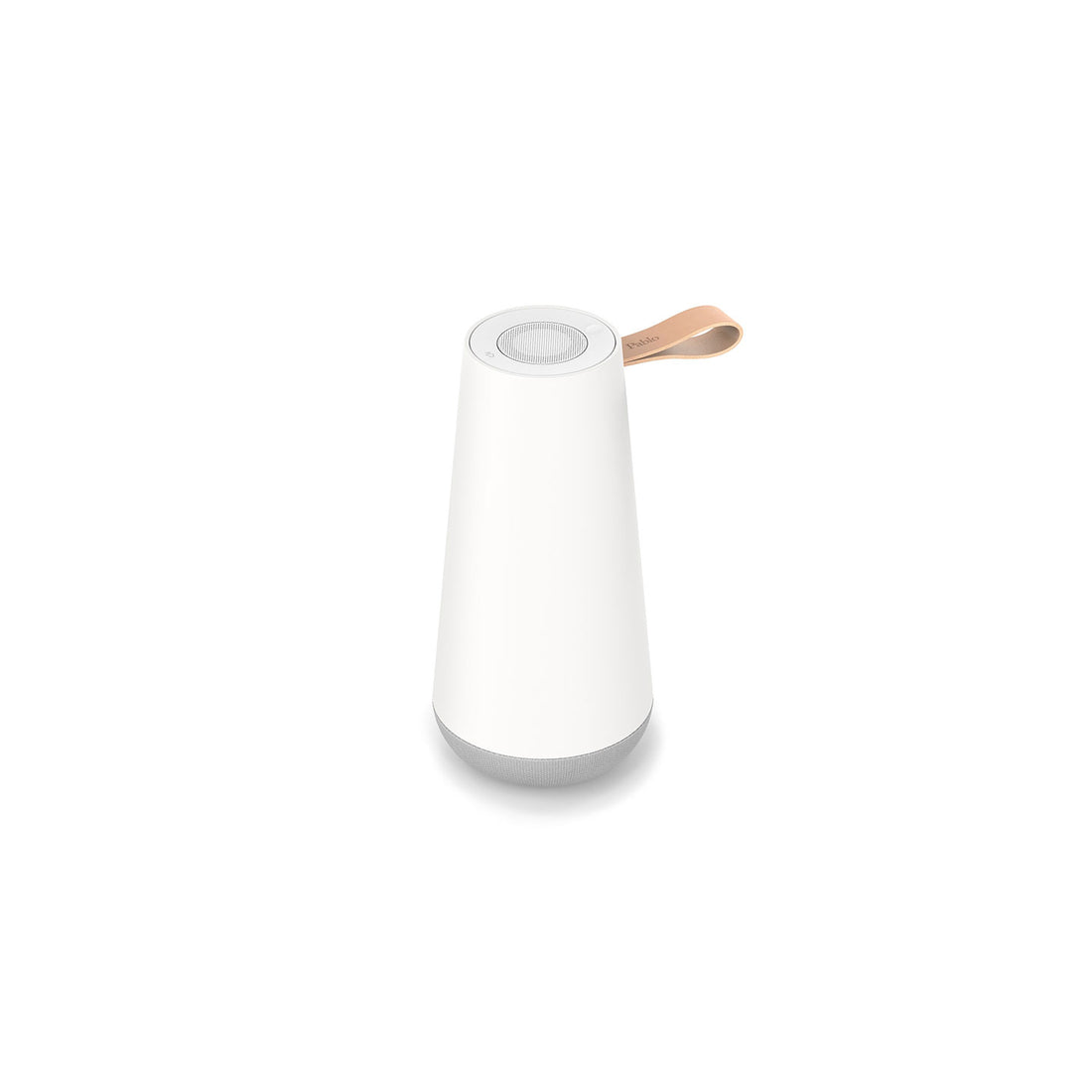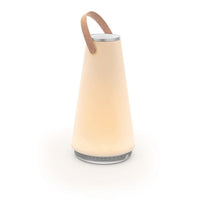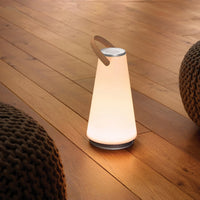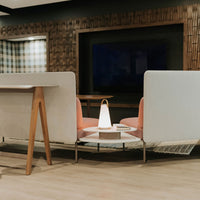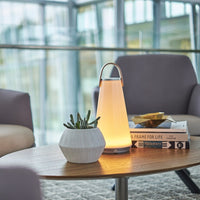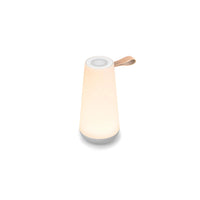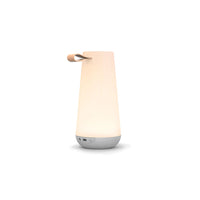 UMA LED - The Audio Lantern. The UMA speaker light offers a unique blend of portability and versatility, with 360° of warm LED lighting and an easy-to-control Bluetooth speaker. Taking inspiration from traditional lanterns and campfires, the conical shape of Uma evokes a sense of warmth and comfort. This portable light and speaker is rechargeable, allowing you to enjoy it wherever you go. The UMA is perfect to use both at home and for the office!
Features
Diffused polycarbonate lens with a steel grille and silicone feet

UMA is equipped with two interchangeable genuine leather handles (one grey and one tan). UMA Mini comes with 1 non-interchangeable strap. Both include a protective cotton bag with a leather drawstring

Warm dim LED technology 

UMA: Full range dim control | UMA Mini: 2-stagedim control 
Bluetooth connectivity
Rich 360º sound with touch-sensitive volume control
Portable and rechargeable

A USB-C to USB charging cable is included for the UMA Mini. An optional wall charger is sold separately.

UMA Mini can be paired with up to 24 additional UMA Mini units simultaneously via a single Bluetooth source.
UMA Specs
6"Wide x 6" Deep x 11"H
Voltage: 120/240V 50/60Hz
Power consumption: 4.5 watts (light) | 12 watts maximum (speakers)
Color temperature: 2000-2700K
Luminosity: 190 lumens maximum
Luminaire efficacy: 42 lumens/watt
Rated lifespan: 50,000 hours
Charging time: Up to 3.5 hours
Battery life: Up to 8 hours speaker
Bulb type: Warm dim LED
UMA Mini Specs
4"Wide x 5.6" Deep x 8.4"H
Power consumption: 4 watts (light) 8 watts maximum (speakers)
Color temperature: 2000K
Luminosity: 100 lumens maximum
Color rendition index: 90 CRI
Rated lifespan: 50,000 hours
Charging time: Up to 3 hours
Battery life: Up to 20 hours (light only) | Up to 15 hours (light and speaker)
Bulb type: Warm dim LED
Certifications
CE Certified
ETL Listed to UL Standards
IP51 Rated
Ten to fifteen (10-15) business days from date of order.
Ergonomic office accessories improve the functionality of your workspace by adding comfort and enhancing productivity. Work comfortably and efficiently by combining these accessories with an adjustable task chair and desk.
At Office Interiors, we make conscious choices in sourcing our products. We partner with manufacturers who are world leaders in environmentally friendly products. Prioritizing responsible sourcing through our partnerships helps us better serve not just our customers but also our planet. 
Learn more about Haworth's eco-friendly practices below.
Something For Our First-Time Office Furniture Buyers